Digital Television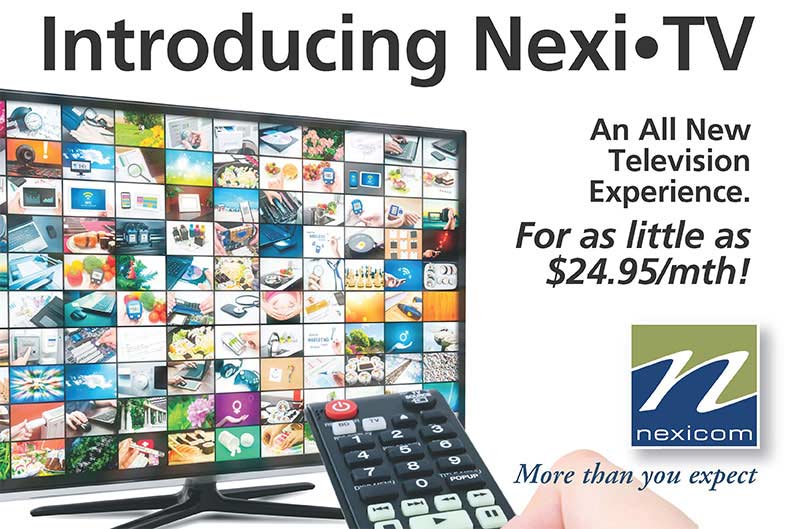 Start with Nexi
•

Basic and get 29 Television Channels and 45 Radio Channels for just

$24.95

/month!

Then, pick and choose from 26 Theme Packages to create the Television experience that is perfect for you.

Nexicom has added the AMC HD channel 224 to our standard 29 channel Nexi-Basics digital cable package. At no extra charge, enjoy great programming for a great price.

For more information regarding AMC HD channel 224 or to order our Nexi-Basic package please call us today (705) 775-nexi (6394) or email cabletv@nexicom.net
All Nexi
•

TV Packages include:
No Installation Cost.
You can change your Channel selections every month or even turn it off if you are going to be away[1].
Nexicom's Award Winning Customer Support and Service.
Hundreds of Channels Available.
More High Definition options.
Stream live & on-demand with Watch TV Everywhere.
Packages
Nexi

•

TV Channel Line-up Pricing
NexiBasic Digital with HD
45 radio stations are included.
Equipment
Type
Rental Rate
Purchase Price
High Definition Receiver

$6.95

/month[1]

$179.95

High Definition Receiver w/ PVR (manual)

$15.95

/month[1]

$399.95
Consult our Channel Guide to help customize your channel lineup:

Add Basic Theme Packs. Choose from:
$4.95

/month each
Add Advanced Themes. Choose from:
$7.95

/month each
Add Premium Movies Packs. Choose from:
Rate
Nexi

•

Movies1

$16.95

/month
Nexi

•

Movies2

$19.95

/month
Nexi

•

Movies1 + Nexi

•

Movies2

$33.95

/month
Channel
Rate
463 - NBA TV

$2.95

/month
466 - Leafs TV

$2.95

/month
800 - Telelatino

$9.95

/month
239 - Sportsnet World

$14.95

/month
805 - ATN

$14.95

/month
807 - Odyssey

$14.95

/month
801 - Fairchild

$19.95

/month
Additional Information